Percy Foster Hall II
March 6, 1928 – May 30, 2019
---
A video of the August 17, 2019 memorial service
"A Celebration of the Life and Music of Percy Hall"
is now available via streaming on YouTube.

A memorial fund has been established in Percy's name to support the Mansfield Symphony Youth Orchestra and Youth Strings, furthering Percy's lifelong mission to provide musical opportunities for young people. Donations can be made online at donorbox.org/percy-hall or by writing a check payable to "Mansfield Symphony Orchestra", notating "Percy Hall Memorial Fund" in the memo line, and mailing to Mansfield Symphony, 138 Park Avenue West, Mansfield, OH 44902. Specific uses for this fund will eventually be determined by the Hall family in consultation with the Mansfield Symphony Orchestra and other affiliated music professionals.
---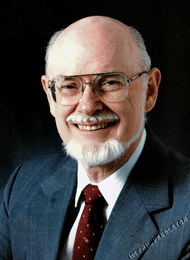 Percy Foster Hall II was a remarkable man – a deeply beloved and devoted father and grandfather, inspirational teacher to thousands of students, and an ambassador of the arts. He touched innumerable lives by sharing the joy of music for over 65 years in North Central Ohio and around the world as an educator, performer, and composer.
Born March 6, 1928 in Beltsville, Maryland, Percy had music resounding in his ears from an early age. His father, Reginald Foster Hall, was an Episcopalian minister who also played the piano and sang. His mother, Lily Hambleton Hall, was a church organist, and his maternal grandfather, who worked as a graphite miner, was a country fiddler. Percy was named after his paternal grandfather, also an Episcopalian minister, who emigrated as a teenager in 1879 from northern England to New York City.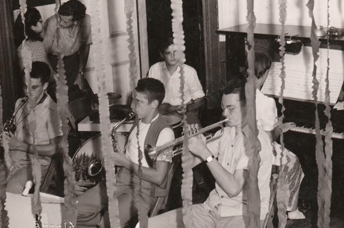 Percy and his two brothers Jack and Reg were active in music during their youth, each playing several instruments and teaching themselves to arrange music. But since their school was quite small, there was no opportunity for them to participate in school music ensembles. This dearth of musical resources inspired Percy's lifelong mission to enhance the lives of young people by providing meaningful music education opportunities.
The three brothers were enamored with the big band craze of the early 1940s, so they got their hands on a trumpet, trombone, and sax, and with three other friends formed a dance band. They called themselves "The Debonaires." Soon they were performing regularly at school dances throughout the area, and eventually at the local USO club during the early years of World War II.
Percy attended the University of Maryland for a year before enlisting in the U.S. Army, where he played trumpet in the 2nd Constabulary Regiment Band in the post-WWII Army of Occupation in Germany for two years. His love for music continued to blossom. He and his fellow servicemen formed a big jazz band in which Percy played trumpet and furthered his skills at writing and arranging music. He was truly an original "Boogie-Woogie Bugle Boy."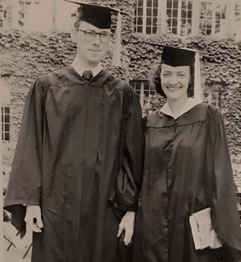 "Some of my fellow soldiers planned to come back to the States and become school band directors. I didn't even know there was such a job," Percy said, "but I figured if they could do it, so could I!" Having completed his gig with Uncle Sam, he enrolled at Westminster College where he earned a Bachelor of Music degree and met Nancy, who would eventually become his wife of 68 years.
After marrying, Percy went on to earn a Master's Degree in Music Education from the University of Michigan, one of the top music schools in the country. While there, he studied under Dr. William Revelli, an innovator in modern marching bands. He also took intensive courses to learn to play most orchestral and band instruments, and was a member of the symphonic band, marching band, and choir.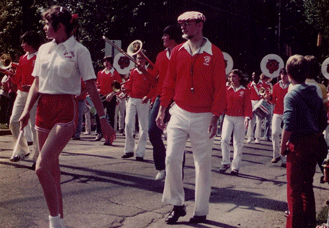 After graduation in 1952, Percy signed on as Music Director of band, orchestra, and chorus at Madison High School in Mansfield, Ohio, where he revitalized the struggling music program. One of his first undertakings was to build up the marching band using the techniques he learned at the University of Michigan, which were quite innovative for a high school at that time. Needless to say, it was a huge hit as the band took off in popularity, performing halftime shows at high school football games. Soon Percy's notoriety landed him a much larger job at Mansfield Senior High School, where he taught for 35 more years, eventually being named Music Supervisor of the entire Mansfield Public School System.
Although he is best known as the beloved band director at Mansfield Senior High School, Percy also developed the orchestra and jazz programs, which earned high ratings in contests and delighted many audiences over the years. When he started at Mansfield Senior High in 1958, the orchestra had only eight string players. Percy worked tirelessly to build a program in which students on all instruments could have the experience of performing in an orchestral ensemble. He eventually created a vibrant orchestra program that consistently earned top honors in statewide competitions. In his broader role as Music Supervisor, he guided the music programs across all schools in the Mansfield system. Percy always sought to provide promising student musicians with additional challenges and opportunities. He organized the first Richland County Honors Band in 1954, for example, an institution that is still operating today.
In his 41st year of teaching, Percy was asked by the Ohio Music Education Association to speak to the group on "How I lasted 40 years in an urban school system." He informed the audience it wasn't at all about "lasting." "It is," he said, "about treating the kids in a way that they know you care and want them to succeed. No matter where you teach, you don't change your expectations of the children; you work to change their expectations of themselves."
"I love music and I love kids, and I show that love and respect to both."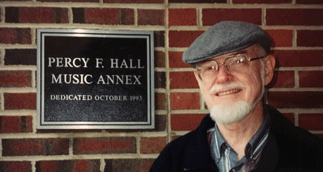 When he retired from public education in 1993, the Mansfield City School Board honored Percy by naming the Mansfield Senior High music annex the "Percy F. Hall Music Annex" – a fitting name for the building where he spent decades teaching and inspiring so many students.
But that was not the end of Percy's journey – he promptly donned the cap of a college professor and spent ten years teaching music education students at Ashland University, while still assisting his former public school colleagues as a volunteer coach for their orchestras and small musical ensembles for another 20+ years.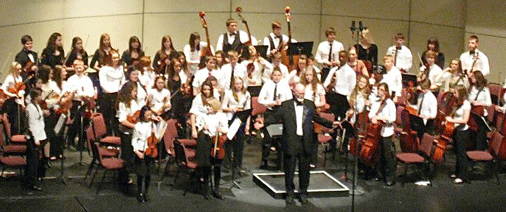 Following his public school retirement Percy also took over as Conductor of the Mansfield Symphony Youth Strings for twelve years, while also serving as Assistant Conductor of the Mansfield Symphony Youth Orchestra, a full orchestra of high school age students. In addition, he led the choir at the Linden Road Presbyterian Church, where his wife Nancy served as organist for a staggering 65 years! If all of this doesn't really sound like "retirement," then you understand what a driven man Percy was!
Not content to just teach music, Percy also performed in many musical groups over the years, including his dance band, "The Percy Hall Dance Orchestra," the Mid-Ohio Brass Quintet, and the Mansfield Symphony Woodwind Trio. He was also a long-time member of the Mansfield Symphony Orchestra, for which his instrumental versatility served the orchestra well for over 50 years. He played whatever instrument was most needed at any particular time, including flute, piccolo, bass clarinet, viola, trumpet, and tenor saxophone. He was also principal percussionist for many years. Percy and his long-time friend and colleague Eddie Chiudioni were highly instrumental in developing the Mansfield Symphony from a community ensemble into the professional orchestra that it is today. He was also a familiar voice of music in countless school assemblies, where he brought the Mansfield Symphony (and smaller instrumental ensembles) out to perform "music appreciation" programs in elementary and secondary schools throughout North Central Ohio. Percy spent many hours creating custom arrangements of music for each of the traveling symphony ensembles that were appropriate for school-age children and created pre-concert tapes to prepare the kids for the programs.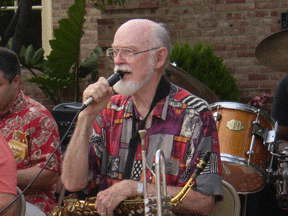 The Mansfield Symphony honored Percy in 1998 with a special award "for outstanding service to the musical arts in North Central Ohio." An ardent advocate for live music, Percy was active in the American Federation of Musicians' Local 159, serving as Vice President for many years. He shared the gift of live music by organizing and leading hundreds of summer concert band and jazz concerts throughout North Central Ohio for several decades. He received the AFM's "President's Award" in 1986, their "Outstanding Service" award in 1990, and was recognized by the Union once again in 2011 for his "fifty years of devotion to music in the Mansfield area."
Percy's renown extended well beyond Mansfield. In 1987 he received the Outstanding Music Educator award from the Ohio Music Education Association (OMEA). In 1995 he was inducted into the Ohio Band Director's Conference Hall of Fame. At the award ceremony, the University of Akron Symphonic Band performed "Buckingham Brigade," one of Percy's original marches (which led to its publication -

MP3). In 1995, he also was greatly honored to receive the Distinguished Service Award from the Ohio Music Education Association. At that time, they said of him, "Percy's spirit and quest for musical excellence are without equal in our profession. He has touched the lives of thousands of students with honesty, dedication and truth. He is a man of honor, courage and devotion to his art, to his profession, to people and to his God."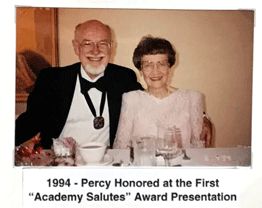 Other recognitions included an Alumni Citation for Distinguished Accomplishment in 1997 from Westminster College, and a 1999 Meritorious Citation from the Ohio Federation of Music Clubs for service to music education. In 1994, the Richland Academy of the Arts honored Percy for his "significant contribution to the educational and cultural life of the greater Mansfield area," and in 2009 he was named "Renaissance Person of the Year" by the Renaissance Performing Arts Association in Mansfield "for his commitment to improving the quality of life in our community."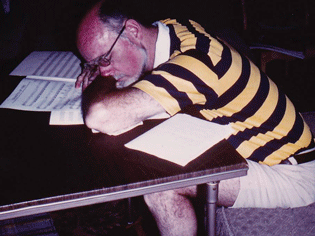 A prolific composer and arranger, Percy has provided music for countless ensembles and choirs. Percy discovered early in his career that he had a special talent for arranging music. He was able to keep the marching band (and fans) excited by playing the latest popular tunes, which were not yet available as published band arrangements – often requiring late summer nights at the work table, cramming in numerous arrangements just in time for the upcoming football season. For smaller ensembles, he often used his composing and arranging talents to create pieces customized for the players – just the right level of difficulty to challenge (but not overwhelm) each student in a musical ensemble. Although many of his students may not have realized it, the music they were playing was often written just for them, to bring out their individual strengths. When asked about his greatest talent, Percy once said (with a wink) "Creating arrangements that help students sound better than they really are!"
Over time, many other educators and musicians recognized Percy's incredible talents as a composer and arranger, creating a demand for his music that is still in full swing. Percy has over 300 published pieces to his credit, many of which are standard repertoire for school bands, orchestras, and ensembles. Over 200 of his publications are listed on the current edition of the OMEA Solo and Ensemble Adjudicated Event Music (the required list for high school solos and ensembles in Ohio) as well as on required or recommended lists in other states, including New York, Virginia, Florida, Wisconsin, and Texas. For a listing of some of his compositions and arrangements visit www.percyhall.com.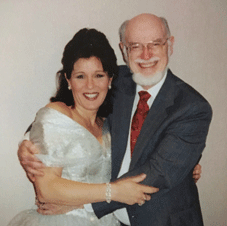 In addition to his published music, Percy has also created numerous unpublished compositions and arrangements for the Mansfield Symphony Orchestra and Symphony Chorus, the Sounds of Sousa Band directed by Marcus Neiman, other concert and marching bands, dance orchestras, pop vocal ensembles, and church choirs across the U. S. and Europe. He was especially thrilled to create several arrangements for the world-renowned opera singer Sylvia McNair to perform with the Mansfield Symphony, having musical connections with Sylvia from her time as a budding music student in the Mansfield area.
Percy was a man of great faith, instilled by his parents and grandparents and evidenced throughout his life of generous and selfless service and kindness. He was a member of the Linden Road Presbyterian Church in Mansfield for over 65 years, where he served as Elder, Sunday School teacher, and Choir Director. The Christmas Eve musical pageants that Percy and Nancy meticulously created and directed were always a high point of the church year. Despite his many responsibilities, Percy would always find the time to organize a musical program for the hospital or senior housing whenever they asked for his help.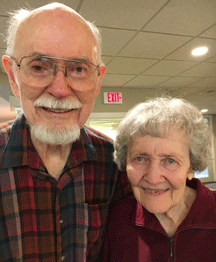 Behind Percy's success was Nancy, his loving wife and partner, who supported Percy and their five children through every twist and turn, and never missed a beat. Percy and Nancy raised five children: David, John, Marcia, Barry, and Kathy. They have nine grandchildren and one great-grandson. Percy's passion for music lives on in his offspring, who are all active in music, some professionally and others for fun. Each of his grandchildren also had the privilege of receiving music instruction from their "Grandpa Hiya." The family string and brass ensembles are called into action for family weddings and other events, and an annual highlight is the Hall Family Marching Band, participating each summer in the July 4th parade at Lakeside, Ohio, where the Halls have vacationed for over 50 years.

In retirement, Percy and Nancy unleashed their pent-up travel bug, embarking on a dizzying stint of globetrotting in which they visited 40 countries and almost every state in the USA. Some of their expeditions were with performing groups such as the Westminster College Alumni Choir, which performed Percy's choral compositions in legendary spaces such as the Cathedral of Notre Dame in Paris and St. Peter's Basilica in the Vatican City. Other tours were cultural or educational, such as Elderhostels where they studied art, history, and even marine biology. Percy would always commemorate the end of each tour by composing a special song with humorous lyrics.
A striking man at 6'3" with a shiny bald head and a salt-and-pepper beard, Percy was often easily recognized by former students…even one who spotted him in a crowd at the Great Wall of China!
It would be difficult to determine the number of people that Percy has influenced with his music, but since a few of his kids are actuaries, estimates have been attempted! We believe that with all of his students from his 63 years of teaching, plus the thousands who have played or sung his compositions and arrangements around the world, plus students and fans from countless football and basketball games, symphony and music appreciation concerts, summer concerts, dances, and tours across Europe and around the world – it's likely that over a million people have been touched by Percy's music.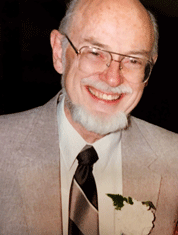 Percy's legacy also lives online in a popular Facebook group called "Percy Hall Fan Club", where hundreds of members - including many former students, colleagues, and friends – have publicly shared reminiscences about Percy and music in the Mansfield area. Those who knew Percy loved and respected his wisdom, his infectious sense of humor, and his generous heart.
Despite his many accolades and awards, Percy was always modest about his accomplishments and never sought attention for himself. His passion was to elevate others through music, helping them to tap into and more fully realize their own creativity, inspiration, and potential. Said Percy, "My greatest reward is the joy of seeing the pleasure that young people receive from their participation in music, and the feeling that I may have had something to do with their success and happiness."
Thank you for the music, Mr. Hall!
---
A memorial celebration of Percy's life and legacy was held on August 17, 2019 at the Mansfield 1st Evangelical Presbyterian Church, 399 South Trimble Road, Mansfield at 2pm. Click here for a streaming video of that service on YouTube.
Other online memorabilia (listed chronologically):
Beards… and Some Men They Shape, Mansfield New Journal family pages article, 1977
Percy conducting the OSU band, circa 1980 (photo). The OSU director, who was Don McGinnis, invited a few Ohio band directors each year to share conducting the OSU band in their yearly outdoor concert. Usually the directors invited to do this were OSU alumni, so he felt especially honored, given his U of M credentials.
Personality Profile – Percy Hall, Music director in harmony with adopted hometown, Mansfield New Journal feature article, 1981
Percy Hall interview on WFMD in fall of 1991 (video)
Tribute to Percy Hall (video), Academy Salutes Award Program, 1994
"Somewhere" - Sylvia McNair, soprano; Marcia (Hall) Henry Liebenow, violinist; arrangement by Percy Hall (video), Academy Salutes Award Program, 1994. (video) Percy was always especially proud of this arrangement and performance, as he didn't typically have the opportunity to arrange music for such accomplished, professional musicians.
"Rough Rider" – performed by a Youth Orchestra in Taiwan (2012) (video) - Percy's musical arrangements have a global reach!
Percy Hall - a musical icon in Mansfield, interview published in Richland Source, 2014.
Two Bassoon trios: (videos) Old English Songs and Duke Street Variants
Hall Family Marching Band (2018) (video) - a recent family tradition, appearing in the July 4th parade each summer in Lakeside, Ohio. 2019 will be our first parade without Percy leading from the golf cart.
---
Go to PercyHall.com home page